Eleven Exceptional Los Angeles High School Seniors
Written 07/25/2017

---

Presented by the Milken Family Foundation
Presented by the Milken Family Foundation, the Milken Scholars opportunity combines a $10,000 scholarship with access to a vast network of career opportunities
Santa Monica—The Milken Family Foundation (MFF) announced today that 11 high school students have been named 2011 Milken Scholars. The highly selective process garnered approximately 500 nominations submitted by college advisors representing 117 high schools throughout the greater Los Angeles area. Each recipient will receive a $10,000 scholarship, but what makes the Milken Scholar award unique is the range of ongoing support and resources that extend beyond college into their professional careers. Being a Milken Scholar means joining an extended family and building relationships with MFF staff and fellow Scholars who provide a strong support system that lasts over time.
The 2011 Milken Scholars are:
David Lam, a graduate of San Gabriel High School, will attend Stanford University
Regina Leslie, a graduate of the California Academy of Mathematics and Science, will attend Rice University
Kristi Littleton, a graduate of Culver City High School, will attend the University of Pennsylvania
Harleen Marwah, a graduate of Lutheran High School of La Verne, will attend the University of Southern California
Luis Mercado, a graduate of Nogales High School, will attend the University of California, Davis
Angela Oh, a graduate of North Hollywood High School, will attend Harvard University
Mary Oh, a graduate of North Hollywood High School, will attend the University of Southern California
Peter Orme, a graduate of Maranatha High School, will attend Harvey Mudd College
Oliver Sitt, a graduate of Gabrielino High School, will attend the University of Pennsylvania
David Tang-Quan, a graduate of Palos Verdes Peninsula High School, will attend Harvard University
Carla Vasquez-Noriega, a graduate of Los Angeles High School, will attend Yale
While these outstanding students possess exemplary records of academic and personal achievement, each has done so despite significant personal obstacles. This year's class of Milken Scholars includes valedictorians, debate champions, five National Merit Finalists and a 2011 U.S. Presidential Scholar. Several have conducted award-winning university-level research projects with one Scholar chosen as a finalist in the Intel Science Talent Search, which has been nicknamed the "Junior Nobel Prize." Their community service efforts range from founding a nonprofit that brings student-led musical performances to under-served communities to mentoring young children in transitional housing.
"The remarkable young women and men who've been selected as Milken Scholars over the past 22 years have consistently worked to make the world a better place," said Milken Family Foundation co-founder Michael Milken, who with his wife, Lori, instituted the program in 1989. "Doctors, research scientists, educators, entrepreneurs, diplomats – the denominator so common to their pursuits has been a genuine sense of service. Lori and I look forward to working with our newest class of high-school graduates as they join the Scholars family to continue that spirit of accomplishment and contribution."
From college and career mentoring to assistance with internships, the program offers support that would typically be outside these students' everyday reach. The program tries to ensure that Scholars have every opportunity to prepare themselves for the transition from high school to college and then from undergraduate work to professional careers. By providing these extraordinarily talented youth with the tools and networks to help manifest their dreams and ambitions, the program's motto is to encourage "lifelong leaders for a better world."
MFF staff communicate regularly with each of the Scholars to assist them with a variety of academic and career issues. Staff members periodically visit the Scholars in their college communities, bringing them together to share experiences and participate in social and cultural activities. Such guidance can be particularly important since many Scholars are first-generation college students.
The program's more than 280 Milken Scholars hail from diverse backgrounds; nearly one-third were born outside the United States and three-quarters have parents originating from over 50 countries. All Milken Scholars are invited to attend a three-day annual Summit each July that culminates with a Recognition Dinner to formally introduce and welcome the new 2011 Milken Scholars. Working with Milken Family Foundation staff and a range of talented facilitators, the annual Milken Scholars Summit provides a forum for Scholars to discuss issues critical to their success at America's most prestigious universities and in their careers. The celebration dinner recognizes the work and achievement of each new Scholar and acknowledges the family, friends and supporters who help make their success possible.
"Milken Scholars have demonstrated that they have the ability, determination and leadership skills to make substantial contributions to the world," said Dr. Jane Foley, senior vice president of the Milken Family Foundation and a director of the Milken Scholars. "The program provides a launching pad so that these remarkable young people can achieve their full potential. Whether teaching inner-city students or researching cures for cancer, Milken Scholars can be found at the forefront of society."
For details about the program, visit www.milkenscholars.org. Please contact bbowers@mff.org or (310) 570-4773 if you'd like additional information and/or photos of the 2011 Milken Scholars. Interviews can be arranged.
###

2011 Milken Scholars
David Lam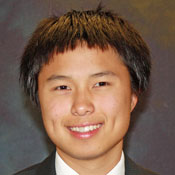 David Lam's stellar academic achievements at San Gabriel High School were evident even as a sophomore when he took top prizes in four different subject areas. A National Merit Scholarship Finalist and an AP Scholar with Distinction, David continued to rank at the top in all of his advanced placements courses and graduated as class valedictorian. Noted for his inquisitive mind, David has the ability to quickly comprehend scientific concepts and is exceptional at problem-solving. As one teacher noted, "He intellectually challenged me and made me a better teacher. He definitely made his classmates think as well." Due in large part to David's contributions, the teacher nicknamed the class, "The Power Hour." San Gabriel's faculty voted to induct him into Los Renombrados, the highly esteemed honor and service society. A debate champion, David qualified for nationals in multiple years, was a semifinalist at the state level and captured first place in numerous local competitions. As president of the speech and debate team, David enjoyed coaching his teammates that "it's not about how much you win, but the impact you leave." His leadership skills were employed in athletics as well. He served as the student Horizontal Jump Coach for the track team and captained the jumping squad before an injury ended his career. An outstanding track and field competitor, David's achievements included Almont League Triple Jump finalist. These valuable life lessons changed him for the better. "I do not settle for anything less than my personal best, and I know I can always improve on any speech, or any result." The first in his family to attend college, David will study physics at Stanford University.
Regina Leslie
Regina Leslie's ultimate career goal is to utilize her Spanish, math and science skills as a medical doctor, working in her own clinic in the Dominican Republic. Passionate about sharing her all-consuming hunger for science, she has been an active member of the California Academy of Mathematics and Science's BioMed club. As club president, Regina was intent on helping members maintain their fascination with science, while preparing for their careers. She was involved in the state-wide Math, Engineering, Science Achievement Program and received the honor of Most Outstanding Participant. Regina, who has completed every science course at CAMS, is so focused on her studies that she compiles notebooks of memos to herself about scientific developments she wants to remember. She has completed several university and community college courses and spends her summers in medical enrichment programs and community involvement. At Kaiser Permanente, Regina worked with the medical librarian on a research project to study how physicians learn. She also volunteers in the Pediatric Post-Anesthesia Care Unit at Long Beach Memorial Hospital. Regina has devoted more than 100 hours as a reading program leader at several local libraries. In guiding library patrons and children through the program, she said she "learned to persuade people of all age groups to read for enjoyment and understand the aspirations for their family members." Regina's talents extend to creative writing and she's been an active member of the school's Art and Literary Magazine. Her English teacher notes that Regina's writing reflects a mature understanding of human nature, and adds, "Regina has the intellectual capacity, patience and drive to learn anything and everything." This fall Regina will study biochemistry at Rice University.
Kristi Littleton
At Culver City High School, Kristi Littleton was elected president of the Academy of Visual and Performing Arts' music company and earned their highest recognition, the AVPA Student of the Year Award. A multi-faceted musician, she is the flute/piccolo first chair in the concert band, co-drum major of the marching band, and a member of the Chamber Singers, Culver City's elite vocal ensemble. Her college-level courses range from jazz ensemble to songwriter's workshops to college choir and she has won outstanding acclaim for her composition and film scoring. Kristi hits all the high notes in academics as she is class salutatorian, an AP Scholar with Distinction and a National Merit Scholarship Finalist. Her AP Calculus teacher observed, "Kristi has a special acumen in the field of mathematics. Her grasp of the most abstract concepts is immediate, demonstrating reasoning skills beyond her years. Her caliber of intellect is second to none as is her standard of excellence." Kristi has been active in the Math Club throughout all four years of high school and has participated in MESA, the UCLA Science Mathematics Achievement and Research Training for Students, and JPL's Invention Challenge. She will continue her science studies with plans to major in bioengineering at the University of Pennsylvania. While serving as co-captain of the speech and debate team, she won the National Forensics League Degree of Excellence and also captured numerous awards within the Western Bay league. Through her involvement with student government, she organized a Global Awareness Week to help students become more aware of global issues and events. Kristi, who earned the Girl Scout's Gold Leadership Award, has volunteered over 500 hours in community service.
Harleen Marwah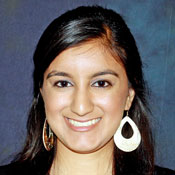 At Lutheran High School of La Verne, Harleen Marwah's academic recognitions included class valedictorian, the National Merit Award, Bausch and Lomb Honorary Science Award, and the Presidential Award for Educational Excellence. "She consistently demonstrates an ability to rise to any challenge," said her AP Biology and Chemistry honors teacher. Harleen was selected as a National Society of High Schools Scholars Ambassador and a semi-finalist in the national Ayn Rand Essay Contest. As a leader, she demonstrates great talent and originality. Elected class president for all four years, she broke the mold with unique fundraisers and class activities and earned the Outstanding Leadership Award from the Student Council. To generate school spirit, she created an engaging TV game show, "Time Out" which poses trivia questions to students and faculty. Harleen not only hosted the show, which aired weekly during study hall, she was the producer and videographer. She was chosen as the junior varsity and varsity captain in basketball and earned the Coach's Award in both basketball and volleyball. She was named to the California Interscholastic Federation's Academic Team Honorable Mention and the 2nd Team All CIF. She credits sports with teaching her about leadership, commitment, dedication, teamwork, and how to move on from a tough game. Harleen said, "The lessons that sports have given me translate into everyday life. What you do in practice, you have to execute in games. What you believe in your mind, you have to execute in real life." Daily she applies her late coach's motto, "Look up, Get up, Never give up." This fall Harleen will enter the University of Southern California on a pre-med track.
Luis Mercado
Honored as a College Board National Hispanic Scholar, Luis Mercado graduated with an International Baccalaureate diploma from Nogales High School. In describing Luis, his academic advisor said, "He is a serious, focused, mature young man with a strong determination to excel. He thrives on meeting and exceeding his academic goals." A first generation college student, Luis will study biological system engineering at the University of California, Davis, in pursuit of a career in biomedical engineering. A star athlete at Nogales, Luis received the Coaches Award in football and track and field and was elected captain in both sports. At the end of his junior year, Luis made the difficult decision to step down as captain and leave the football team so that he could devote additional time to his IB studies. The decision afforded him the time and opportunity to discover his individual identity. He said, "I have realized the person that I am, and am now aware of the person that I can become, and the great things that I can – and am determined to – accomplish." Luis leaves a long legacy of community service at Nogales having volunteered over 150 service hours. Together with three classmates, he resurrected the Best Buddies Club which links developmentally disabled students with mentor "buddies" for daily activities and special events. "I loved every moment that I have been able to help these students enjoy their years in high school," expressed Luis. From Key Club activities to Dr. Seuss Nights to AIDS Walks, Luis brings an earnest spirit of commitment and compassion to his volunteer efforts. Little wonder one of his teachers deemed him "one of the finest students at Nogales."
Angela Oh
After Angela Oh exhausted the conventional mathematics curriculum at North Hollywood High School's Highly Gifted Magnet program, her teachers designed an independent study elective, "Discrete Mathematics," to provide her with even greater challenges. Though every student admitted to the magnet program must score above the 99.5th percentile on an IQ test, Angela has consistently been one of the strongest students. "She displays an excellent instinct for problem-solving, which she pairs with a first-class work ethic and a great attitude," cites a teacher. Angela's extensive list of honors include: John Hopkins Scholar, National Merit Scholar, Sam Walton Walmart Scholar, Associated Administrators of Los Angeles (AALA) Scholar, AP Scholar and was she was one of ten recipients in the nation named as a Questbridge College Prep Scholar. While volunteering at Korea University's hospital in Seoul, Angela helped publish three research papers. At UCLA she conducted bioengineering research and has begun an independent research project on the severity of insomnia among high school students of different cultural and ethnic backgrounds in the Los Angeles community. The first in her family to attend college, Angela will continue her investigation of sleep disorders while studying neurobiology at Harvard University. Her goal is to become a psychiatrist. For her exceptional contributions to the community, she was honored with the President's Volunteer Service Award. In 2008, she co-founded the Social Event Music Organization, now a full-fledged nonprofit, which offers high school volunteers the opportunity to play instrumental music for community events. "I want to show people in my community that they have a chance to fulfill their dreams. And with music, I can always brighten up someone's day."
Mary Oh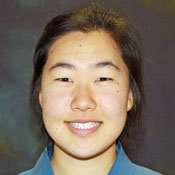 "Mary Oh is a brilliant student whose work is impeccable," said an AP English teacher at North Hollywood High School. She adds, "Her writing is insightful and her analytical skills are exceptional." Intellectually curious, Mary often goes beyond the requirements of assignments. Her academic milestones include selection as a Johns Hopkins Scholar, an AP Scholar with Distinction, a Questbridge Finalist and a National Merit Commended Scholar. She is one of the top math and science students in the Highly Gifted Magnet program which admits only students scoring above the 99.5th percentile on the IQ test. An accomplished musician, Mary plays the piano, flute and guitar. As a pianist, she earned a Certificate of Merit Level Advanced and shares her talents by teaching young children. She was squad leader and flute section leader for the Royal Regiment Marching Band. "Joining band was my first independent decision at high school and the best one I made. This music community has enhanced my development into an ambitious, persevering and compassionate individual," said Mary. She also holds a Black Belt 2nd Degree in Tae Kwon Do. As president of the youth group at her church, she organizes events and fundraisers and leads English classes and "free talking" sessions for immigrants. Mary's motto is, "It's not over until it's over," which means that she will continue to push herself until she achieves the results she wants, "even if the first hundred or thousand attempts are in vain." She will never give up on herself or her dreams. When she enters the University of Southern California to study biomedical engineering, she will be the first in her family to attend college.
Peter Orme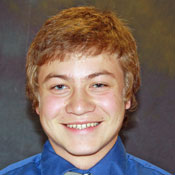 Maranatha High School's Peter Orme, "possesses an unparalleled maturity as a learner, a natural ability to lead both within and outside the classroom, and a tireless industry that ensures all tasks reach the highest level of completion. He is without peer among the students that I have taught," said a teacher and coach. Peter, who has been class valedictorian since freshman year, is a National Merit Finalist and AP Scholar with Honors. Each week he spent three to five hours collaborating with two mentors from CalTech on authentic research into the development of a non-toxic and efficient oxygen-evolving catalyst for a solar-hydrogen fuel cell. Peter helped found and was the two-time co-captain of the school's first Science Quiz Bowl Team. A varsity athlete, he was a member of the League Championship teams in cross-country and track. "Running is an allegory for every aspect of life's difficulties," expressed Peter. "No 'runner' can become complacent, but must aggressively seek personal and objective excellence over whatever obstacles that may come." He held multiple offices in Key Club, including president during his junior year. Peter is noted for possessing a mature philosophical bent. He wants to serve others and improve his community. "I would feel like I haven't achieved anything if I haven't achieved something in relation to people." Though he holds down a part-time job, Peter finds the time to mentor and tutor young children living at a local transitional housing program. This fall, he will attend Harvey Mudd College where he will study engineering in the hopes of taking that knowledge to improve living conditions in a developing country, like his missionary parents did before him.
Oliver Sitt
Oliver Sitt, the class salutatorian at Gabrielino High School, earned straight "A's" throughout his high school career and scored "5's" on each of his AP exams. This extremely intelligent student is described as innovative, diligent and self-driven. "Oliver is both a team player and a young man of individuality and integrity. He is easily one of the top students I have taught in the past 35 years," noted a teacher. Last summer he was one of only 20 students nationwide selected as a Youth Ambassador by the U.S. Department of State to spend a month in China immersed in the Chinese culture and language. Invited to participate in the Edison Challenge, a competition in which students create projects that help protect the environment, Oliver's project – collecting recyclables to fund the distribution in Africa of hundreds of water purifying LifeStraws to areas without clean drinking water – was a first place winner. A key member of Gabrielino's Speech and Debate team, Oliver has captured many awards. He took first place in the state's Future Business Leaders speech competition, was a Stanford University International Extemporaneous Speaking finalist, and earned the position of quarter-finalist at the National Speech and Debate Tournament. Speech galvanized his interest in global issues and he became "committed to pursuing international relations in college with the hope of securing a foreign service post with the Department of State after graduation." Oliver is interested in pursuing a career in diplomacy because he finds "value in understanding the cultures of those around him as well as communicating his own values and culture." He will attend the University of Pennsylvania to study business and international relations.
David Tang-Quan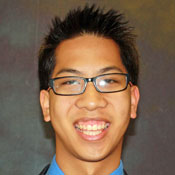 Palos Verdes Peninsula High School's David Tang-Quan is one of only 141 seniors across the nation to be named a 2011 U.S. Presidential Scholar. His academic credentials include perfect SAT scores, straight "A's" and a class ranking as valedictorian. "David is so much more than his perfect grades and perfect test scores," said Peninsula's principal in a recent newspaper interview. "He is a brilliant and multi-talented young man who has excelled in science, math and the humanities." Academic achievements include National Merit Scholar Finalist, National AP Scholar, and Siemens Competition in Math, Science, and Technology Semifinalist. For four years, David has worked at the Los Angeles Biomedical Research Institute investigating new treatment methods for the often fatal fungal disease candidiasis. His research has earned him awards in local, state, national and international competitions, and he was a finalist in the Intel Science Talent Search, which has been nicknamed the "Junior Nobel Prize." Although his work has won great acclaim, David said, "The greatest satisfaction comes from the knowledge that my research is contributing to the body of literature that will ultimately lead to improved health and saved lives." He heads to Harvard in the fall to study molecular and cellular biology as well as political science, desiring "to make a significant difference by advocating in public policy and researching new medications for puzzling diseases." David is president of the Math Club and Math Honor Society and the Latin Club and Latin Honor Society, editor-in-chief of the school's award-winning newspaper, program director for the California Association of Student Councils, student board member of the Palos Verdes Peninsula Unified School District and an Eagle Scout.
Carla Vasquez-Noriega
"Carla Vasquez-Noriega is blessed with the best of both a powerful mind and a big heart. She is a natural-born philanthropist with intrinsic motivation to give back to those in need," said her Los Angeles High School counselor. Her leadership abilities are evidenced by her role as president of three service organizations: Interact Club, the Magnet Council and the United Colors of Los Angeles High School. At AIDS Project Los Angeles, she's a frequent volunteer. Whether fundraising, organizing events or promoting cultural diversity, Carla's drive, motivation and talents guarantee remarkable results. While school clubs allow her to contribute to the community, she also appreciates the opportunity to work individually with others. She was one of a select few LAHS high-achieving students tapped to mentor and tutor freshmen in academic peril. Her efforts merited a Peer Counselor Excellence Award. As an intern at the Bresee Foundation, she tutors students who live far from her daily reach. "Frequently I can identify with them because I grew up in the same dangerous neighborhoods," said Carla. "Yet their unwavering optimism and dedication to improve inspire me to overcome the obstacles in my life. This internship has taught me that the only way to live is by helping each other." Carla, who graduated with honors, earned a National Merit commendation and is recognized as a National Hispanic Scholar. Noted for her exceptional writing abilities, she won top honors in the Black History Month Essay Contest. She will be a part of the first generation in her family to attend college and the first to matriculate at a major university when she enters Yale to study political science.